MARilYN MINTER | Sammlung Falckenberg
Erstmalig wird das Werk der amerikanischen Künstlerin MARILYN MINTER umfangreich in Deutschland vorgestellt. Die Sammlung Falckenberg zeigt vom 30.04. – 12.06. 2011 ihre zwischen Malerei und Fotografie changierenden Werke, die oft die Darstellung von Erotik und Weiblichkeit zum Thema haben.
————-
In den Hamburg-Harburger Phoenix-Hallen werden zwei Künstlerinnen miteinander konfrontiert, die gegensätzlicher nicht sein könnten:
Hamburg erinnert sich an Hanne Darboven [ mehr Infos ]
Anlässlich des 70. Geburtstages am FR 29. April 2011, erhält die spröde Konzeptkünstlerin HANNE DARBOVEN, die bis zu ihrem Tode in Hamburg-Harburg (Rönneburg) gelebt und gearbeitet hat, einen eigenen ständigen Raum. Dieser soll zukünftig mit 2x jährlich wechselnden Ausstellungen bespielt werden und damit die Erinnerung an die wohl international bekannteste Hamburger Persönlichkeit neben Uwe Seeler kontinuierlich wachhalten.

Ihr gegenüber präsentiert Falckenberg die amerikanische Künstlerin MARilYN MINTER, die hier fast unbekannt, in den USA aber ein Superstar ist. "Sie ergänzen sich durch ihre Konsequenz und ihre sinnliche Dichte", sagt Deichtorhallen-Intendant Luckow. Im Gegensatz zu der Intellektuellen Darboven verbindet Minter pornografische Vorlagen mit High Fashion. Sie macht, fast immer im Ausschnitt, Absurdität und Faszination eines überdrehten Körperzirkus sichtbar.
————-

Ausstellungskatalog
Sammlung Falckenberg,
herausgegeben / Vorwort von Dirk Luckow
Texte von Belinda Grace Gardner, Miriam Schoofs

48 Seiten
40 farb. Abb.
Format 30 x 23cm,
Klappenbroschur
300 x 230 mm
Deutsch / English
Die hyperrealistischen Nahaufnahmen von scheinbar glamourösen Bildern, einschließlich Make-up-beladenen Lippen, Augen und Zehen untersuchen die zunehmende Trennung zwischen dem fiktiven, durch Medien und Werbung vermittelten Körperbild und dem realen Körper. In einer umfangreichen Werkserie von 2007 ist Pamela Anderson das Modell. Ausschnitte aus "Green Pink Cavier" von Marilyn Minter wurden 2009 von Madonna als Bühnenhintergrund zu ihrer Welttournee "Sticky & Sweet" genutzt.
"I was shooting stills of models with long tongues swirling and sucking bakery products from under a pane of glass. I wanted to make enamel paintings along the idea of painting with my tongue. My makeup artist shot some short videos just to see how it would look. The low definition videos looked so good that later we made plans to do a professional high definition video. I have made both billboards and produced a commercial advertising a 1989 painting show so this made sense as a next step. Green Pink Caviar seems to have a life of its own." [ Marilyn Minter ]
————-
VIDEO | Marilyn Minter at MoMA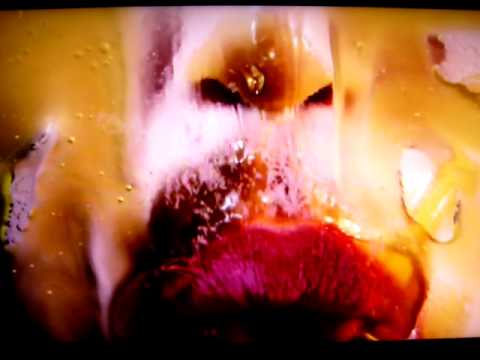 ————-
In Marilyn Minters Arbeiten nimmt die komplexe Beziehung zwischen Körper, Fotografie und Malerei einen zentralen Stellenwert ein. Minter legt dabei die kulturellen Beklemmungen im Umgang mit Sexualität und Verlangen offen, die hyperrealistischen Aufnahmen von hochglanzpolierten Oberflächen und Körperpartien wirken verführerisch und verstörend zugleich. In der fragmentierten Darstellung von Lippen, Augen, Münder und Nacken stehen sich Dekadenz und Schönheit sowie die Abgründe und Faszination des Glamours gegenüber.
MARILYN MINTER - SHIT-KICKER, 2006 | C-print 11 X 14 inches
Minters voyeuristische Halluzinationen erscheinen verlockend und gefährlich zugleich. Die Schönheit offenbart sich als brüchiges Konstrukt, bei der sich Sinnlichkeit und Selbstzerstörung nahe sind; Fleisch, Verlangen, Sexualität und Geschlechtermodelle erscheinen als kommerzielles Produkt. Darüber hinaus ist Minters Spiel mit den Klischees inszenierter Körperlichkeit ein Experiment, das ungewohnte Blickwinkel auf den abstrakten Schönheitskult aus Werbung und Mode ermöglicht.
————-
VIDEO | Marilyn Minter Portrait | Jury Member Guggenheim Museum / YouTube Video Biennale 2010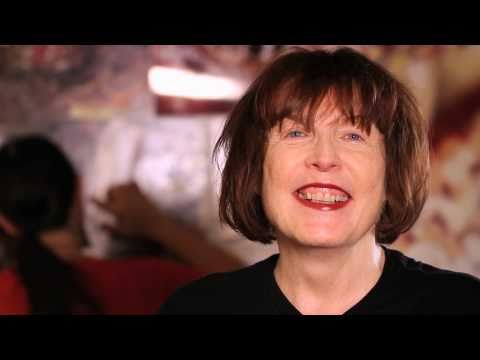 ————-
Marilyn Minter | Ausstellungen [ Auswahl ]
The Museum of Modern Art, New York, NY; Fotomuseum, Winterthur, Switzerland; CAC, Cincinnati, OH; The Museum of Contemporary Art, Cleveland, OH; La Conservera, Murcia, Spain; San Francisco Museum of Modern Art, San Francisco, CA; Museum of Contemporary Art, San Diego, CA; The Kitchen, New York, NY; SITE Santa Fe, NM; The 2006 Whitney Biennial, New York, NY.
Marilyn Minter: Chewing Green, 2008 C-Print 150 x 218 cm © Marilyn Minter.
Courtesy Salon 94, New York
Her Mouth series explores what tongues and lips look like when lapping up candy-like materials – aka what you thought about during that meeting yesterday.  Her paintings, photographs, and films are viscerally provoking and have been shown in some of the art world's most exciting locales – the Whitney Biennial, San Francisco Museum of Modern Art, as well as at galleries throughout Sweden, the UK, Spain, and France – proving yet again, that people fantasize about candied women licking up sugar all over the world.
Marilyn Minter - Pamela Anderson series
Pam is a series of photographs and paintings focused on Pamela Anderson.  Originally a commissioned series for Parkett Magazine, this is a whole new way of seeing Pam.  At first, you actually might not recognize her, but sooner or later you'll catch a glimpse of the barbed wire tattoo.
The film Green Pink Caviar shows you what tongues and lips look like when lapping up candy-like, liquid substances in action.  Minter's subjects then use that same liquid to sort of "repaint" the glass surface through which they're being filmed.
————-
VIDEO | MARILYN MINTER official trailer for "Green Pink Caviar" www.greenpinkcaviar.com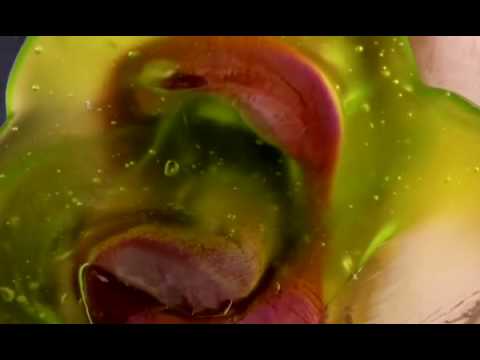 ————-
Marylin Minter:
"We were screwing around in my studio, photographing girls spitting out candy on a piece of glass to get images for paintings—but when we looked underneath, we all thought, "Cool!" Since I feed off the fashion world like a parasite—I use their makeup artists, their stylists, even their catering services—I waited for my next commercial assignment so I could slip my project in between takes. We filmed this during a M.A.C-makeup shoot.
I called up Ford and said, "Gimme a model with a really long tongue and nice, full lips." They sent me Louisa Taadou. For the candy, I bought a lot of colorful cake decorations: Here, I used yellow méringue filling mixed with blue food coloring. Austin Lynn Austin filmed from underneath the glass with a high-def camera, and Louisa held her breath to avoid fogging it up. I made sure you couldn't see the eyes, because as soon as you see the eyes, it's a different narrative.
I don't want to sound disingenuous, but to me it's not sexy—it's gorgeous. It's about hunger and insatiability, a trailer without a movie behind it, an ad only for itself." [ via NY Mag ]
————-
Marilyn Minter in her Soho studio, New York, 2009 | Courtesy of Johan Olander, New York
Born in 1948, New York based artist Marilyn Minter has been creating these sensual, borderline pornographic images since the 80s. Her process involves taking photographs of her subjects and then (usually) painting them on a huge scale using enamel paint on metal. Yet, as Emily Davidow says, "…the paintings feel more real than the gorgeous photographs that inspire them. Illuminating the moments when things fall apart, the paintings get more interesting as your gaze lingers on after that first arresting glance and you discover the imperfections. Hand feathered layers of enamel on metal render sweat, stubble, wrinkles and freckles lush, tactile and luminous." The paintings are huge.
Soiled glamour has preoccupied Minter for almost four decades. Her extreme, large–scale close-ups of body parts, covered in sweat, dirt, makeup, pearls or soap bubbles show details that at times push the image past the point of abstraction.
Minter's paintings may seem hyper-real at distance but the surface dissolves at close range. The image used to create a painting is never a straight photograph, Minter's references are produced by scanning multiple negatives and combining them in Photoshop to make an entirely new image, then used to make a new painting. By working both with painting and photography she examines the relationship between them.
In Minter's images of Pamela Anderson she is almost unrecognisable as the icon she has become through media. Anderson, as image and media figure, embodies issues that Marilyn Minter has been examining for many years – how media influence our understanding of gender, sexuality and desire.
————-
Sammlung Falckenberg | Wilstorfer Straße 71 | Phoenix-Hallen / Hamburg-Harburg
————-
MARilYN MINTER | Sammlung Falckenberg

,
Related Posts :